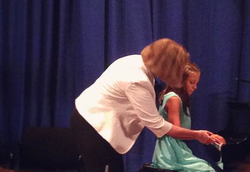 I hope you all have been having a great summer! It has been a great summer for me, and one of the highlights this year, as always, was attending the Golandsky Institute Summer Symposium. The symposium was particularly exciting for me this year, as I had the opportunity to bring some of my students, too! I was thrilled to be invited to bring two of my students to the symposium to participate in the Pedagogy Clinic. Congratulations to my students, Andrew and Casey, who played in the clinic! They both did a fantastic job!

The Symposium is a weeklong event held at Princeton University every summer that offers the opportunity to study the Taubman Approach in-depth with the Golandsky Institute's expert faculty. The symposium attracts piano students and teachers from all over the world who come to participate in the intensive week, which includes a variety of presentations and lectures, master classes, clinics, concerts, and private lessons.

Mary Moran, one of the co-founders of the Golandsky Institute, presents the Pedagogy Clinic each year. It works like a masterclass: students present technical skills and music they have been working on in their lessons and and receive feedback from Mary in front of an audience of teachers. This year, my student Casey, age 8, worked with Mary on the technical concept of balancing on each finger, one of the initial stages of Taubman training. My student Andrew, age 13, played Chopin's Prelude in D-flat Major, Op. 28 No. 15. The clinic was a valuable learning experience and great performance opportunity for the kids, and I was so excited to give my students this opportunity. The clinic also gives Taubman teachers in the audience the rare chance to observe Mary's teaching. For teachers studying how to teach the Taubman Approach, observing experienced Taubman teachers at work is one of the best tools to becoming a better teacher. Solutions to specific difficulties that come up teaching Taubman concepts with one student can often be applied with other students as well. To learn more about the Pedagogy Clinic, recordings will be available for purchase at the Golandsky Institute website.