Biography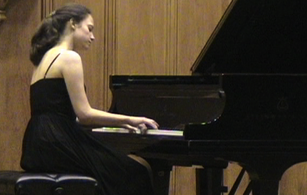 I have studied piano since the age of five. I earned my bachelors degree in piano performance from Northwestern University, pursued graduate studies in piano performance at Indiana University--Bloomington, and earned my certification as a Taubman Instructor from the Golandsky Institute. I currently study privately with Robert Durso, co-founder and senior director of the Golandsky Institute and master teacher of the Taubman Approach to piano playing, and am working towards Taubman certification at the Associate level. My past principal teachers have included Jean-Louis Haguenauer and Sylvia Wang.

Awards and honors I have earned as a pianist include prizes in the Northern Virginia Music Teachers Association solo, concerto, and ensemble competitions, a scholarship to the Russian-American Piano Institute at Northwestern University, and a Dean's Scholarship at Indiana University. I have studied abroad at the Ecole Normale de Musique—Alfred Cortot in Paris and studied and performed in masterclasses at the St. Petersburg Conservatory in Russia. I have also attended many summer music festivals, including Aspen, Brevard, and Interlochen.

I have over eight years of private teaching experience. As a masters student at Indiana, I served for two years as an instructor at the Indiana University Young Pianists Program and as a practice coach at the Indiana University Summer Piano Academy. Before moving to Pennsylvania, I also taught private lessons to students ages 5 to adult in my hometown of Alexandria, Virginia.

I currently teach private piano lessons in Doylestown, PA.


---
To listen to samples of my playing, please visit my YouTube channel: